Freedom On-Demand

RideKC Freedom On-Demand is a new cutting edge transit option. Freedom On-Demand begins with a strong core service for persons with disabilities and builds on that foundation to provide fast, affordable cab rides for everyone. The app-based service allows anyone to book a cab ride without providing 24 hours' notice required of paratransit service RideKC Freedom.
Traditional paratransit services in Kansas City is called RideKC Freedom, formerly Share-A-Fare. Paratransit provides specialized transportation for people with disabilities who are not able to fully use the buses or streetcar that are part of our public transportation system.
RideKC Freedom On-Demand is an app-based service. The RideKC Freedom On-Demand app is available in the Google Play store or the Apple App store.
On-Demand program is open to everyone, but only customers who are certified as disabled under the Americans with Disabilities Act in the RideKC Freedom paratransit program qualify for a reduced fare. The general public can use On-Demand services at the regular price of $10 for the first five miles, and is $2 for every mile after. Riders without a smart phone can call RideKC Call Center to connect with a taxi dispatcher.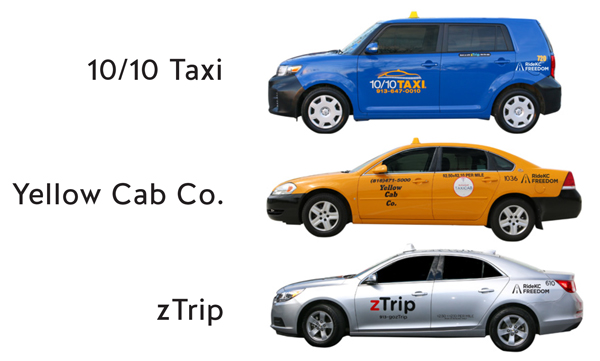 The pilot program provides subsidized trips for riders with disabilities and non-ADA riders in select areas: all of Johnson County and Wyandotte County in Kansas, and portion of the Northland, and an area south of the Missouri river in Kansas City, Mo. Riders must start their trip within the service area to qualify for reduced fares. Trips that start outside the subsidized service area will cost the general public fare.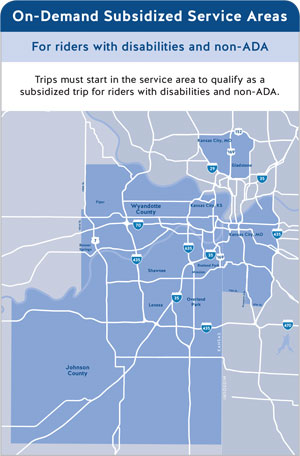 Back